Alabama
Foreclosure Listings
Alabama foreclosure listings of foreclosures for sale and nationwide. Our foreclosure data includes Alabama bank owned homes and REO properties. All our foreclosure listings are screened for accuracy by our team of professionals on a daily basis. All of our Alabama foreclosure homes for sale will also include the contact information, number of beds and baths, SQFT and price.
Top 10 Cities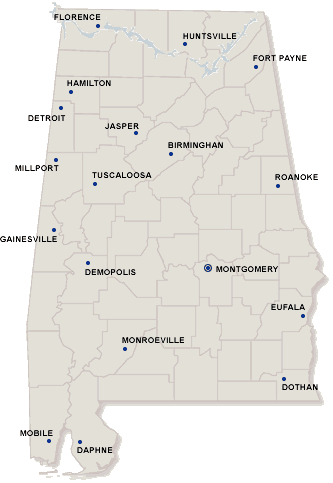 Latest Foreclosures in Alabama
Alabama top locations
Search through the best foreclosures listings in Alabama that we offer!
Choose a city from the list below and find your dream home today!
Or search more locations in Alabama
---
Alabama Foreclosures for Sale
Alabama has a burgeoning population of over 4.5 million and features a rich cultural heritage. The state has a strong agricultural industry that encapsulates approximately half of the general region, with strong commodities in cotton growing, poultry, cattle and calves, peanuts and greenhouse plants, just to name a few. The industrialization of certain sectors has resulted in major technological shifts, allowing Alabama to increase productivity and maintain its high level of efficiency. The state continues to regulate a strong presence in traditional areas of agriculture such as poultry and egg production as well.
Alabama has 460 cities across the state, such as Hamilton, Huntsville, Florence, Birmingham and Detroit in the northern region, with Gainesville, Mobile, Dothan and Montgomery in the southern region.
Notable landmarks that can be found in Alabama include the Birmingham Civil Rights Institute, a museum devoted to detailing the historic American Civil Rights Movement during the 1950s and 60s. Other noteworthy landmarks include Gaineswood in Marengo County, the Alabama Sports Hall of Fame in Birmingham, and the Fort Mitchell site in Russell County, along with many more.
Jefferson County remains to be Alabama's most populated county, with Birmingham as its county seat. Birmingham once attributed its growth to its large industrial sector, yet now focuses on areas including medical research, banking, and service-based economy, with the city's most prevalent employers being BellSouth, Jefferson County Public Schools, and various Baptist Medical Centers.
The state's capital city, Montgomery, is the second-largest populated city in Alabama. Its economic growth has resulted in an abundance of educational facilities over the years, with 36 elementary schools, 12 middle schools and 8 high schools, along with 35 private schools available. Other local facilities include community centers, museums, and libraries - along with several parks and recreation areas. Montgomery has a predominantly white-collar demographic, with a median household income of approximately $55,452, a 33% college graduate rate, and an average of over 3,000 family households.
Current state foreclosure listings in Alabama indicate a progressive growth in sales and a reasonable house price average. Over a given month, Alabama home foreclosures accommodate for 19.1% of overall home sales, with the average home value at approximately $93,000.