Massachusetts
Foreclosure Listings
Massachusetts foreclosure listings of foreclosures for sale and nationwide. Our foreclosure data includes Massachusetts bank owned homes and REO properties. All our foreclosure listings are screened for accuracy by our team of professionals on a daily basis. All of our Massachusetts foreclosure homes for sale will also include the contact information, number of beds and baths, SQFT and price.
Top 10 Cities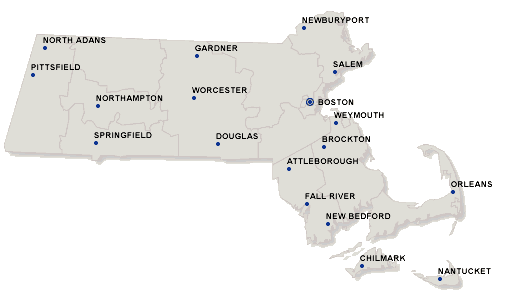 Latest Foreclosures in Massachusetts
Massachusetts top locations
Search through the best foreclosures listings in Massachusetts that we offer!
Choose a city from the list below and find your dream home today!
Or search more locations in Massachusetts
Massachusetts Latest Resources
Boston, Massachusetts was a part of the original thirteen colonies of America. The people were such a pivotal part ...
---
Massachusetts Foreclosures for Sale
The state of Massachusetts is situated in the northeastern region of North America and has a burgeoning population of 6,547,629 people. The state's major cities include Boston, which is Massachusetts most populated and largest city, along with other cities including Lowell, Springfield, Cambridge, New Bedford and Worcester. Major counties that are situated across Massachusetts comprise of Middlesex County, Suffolk County, Worcester County, Bristol County and Hampden County. It is the 44th largest state in America and covers a landmass of approximately 7,838 square miles. Its geographical structure consists of contrasting lowlands by the coastal region, along with sweeping valleys and mountain ranges. They key areas that make up the long stretches of land include the Eastern New England Upland, which recedes from the west and eventually joins up with the Connecticut Valley Lowland. Berkshire Valley is comprised of wide stretches of narrow cliffs and interconnecting valleys, while the Taconic Mountains are situated towards the states east contains extreme variations of slopes and vast mountain valleys.
Massachusetts's economy predominantly thrives on its commercial fishing sector, along with its manufacturing industry. The city of New Bedford is the most active in the fishing industry and contributes to about half of the states production of scallops. Other types of fish that are regularly exported are haddock, clams, crabs, squid, flounder and tuna, just to name a few. The state's manufacturing industry thrives on the making of computer and electrical components, which includes peripheral equipment such as keyboards, printers and monitors, along with internal parts such as chips and circuit boards. It also contributes to an array of communication devices and a variety of metal products, including firearms and utensils.
The state's current housing market proves to be a prospective period for Massachusetts home foreclosures. In Boston, median-listing prices currently average at just below $370,000, a drop of nearly 7 percent compared to the previous year. Massachusetts foreclosures contribute to nearly 7 percent of household sales, which signifies the market is steady with consistent sales occurring. These figures also coincide with other major cities around the state, which are currently displaying similar results. Such trends appear to be spreading around the region, portraying a positive outlook on the house market in the near future.