Louisiana
Foreclosure Listings
Louisiana foreclosure listings of foreclosures for sale and nationwide. Our foreclosure data includes Louisiana bank owned homes and REO properties. All our foreclosure listings are screened for accuracy by our team of professionals on a daily basis. All of our Louisiana foreclosure homes for sale will also include the contact information, number of beds and baths, SQFT and price.
Top 10 Cities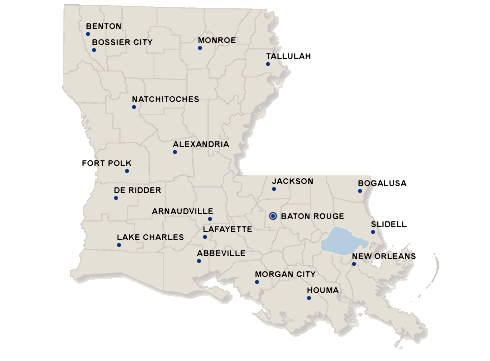 Latest Foreclosures in Louisiana
Louisiana top locations
Search through the best foreclosures listings in Louisiana that we offer!
Choose a city from the list below and find your dream home today!
Or search more locations in Louisiana
Louisiana Latest Resources
New Orleans is a vibrant city known for its eclectic mix of cultures and personalities. Its varied flavor is a ...
---
Louisiana Foreclosures for Sale
Louisiana sports a population of approximately 4,533,372 people. The state's demographic boasts a notable French culture, largely due to its past heritage, with as much as 5 percent of the population fluent in the French language. This particular dialect can mostly be found in the states southern regions. The states geographic structure consists of three main areas including the East Gulf Coastal Plain, which is situated in the states east and comprised of marshlands and low flatlands, the Mississippi Alluvial Plain, featuring an intermittent chain of mountains and slopes, and the West Gulf Coastal Plain, containing long stretches of marshes and swamps.
The state's major cities are New Orleans (the state's largest city in terms of size and population), Lake Charles, Baton Rouge, Metairie and Shreveport. Unlike most other US states, Louisiana categorizes its regions as parishes, as opposed to counties. The most notable ones are Jefferson, Iberia, Calcasieu, Caddo and Lafayette. New Orleans demographics show that the median household income averages at $27,133, with the rate of married couples sitting at just under 40 percent of the city's population.
Louisiana's agriculture industry supports itself through a rich production of crops and livestock. The main products include sugar, cotton, soybeans, cattle, hog, and rice, along with dairy products such as chicken eggs. The state's manufacturing industry thrives on the chemical sector, producing fertilizers, paint, soaps and pharmaceutical chemicals. The processing of petroleum and coal also boasts a considerable impact on the industry, contributing the majority of profits within the manufacturing industry. The state is widely renowned for its commercial fishing sector, being one of the leaders in providing fish, along with its booming shrimp production.
The state's housing market points towards optimistic prospects for the coming months, proving to be a good time to invest in Louisiana foreclosures. Current median listing prices are sitting at approximately $164,900, a decrease in 2.9 percent from the preceding year. This trend stretches across cities such as New Orleans and Lake Charles, where similar statistics display prices within that range. Louisiana home foreclosures provide bargain deals at prices on a level relative to current averages, with some even lower.