Oklahoma
Foreclosure Listings
Oklahoma foreclosure listings of foreclosures for sale and nationwide. Our foreclosure data includes Oklahoma bank owned homes and REO properties. All our foreclosure listings are screened for accuracy by our team of professionals on a daily basis. All of our Oklahoma foreclosure homes for sale will also include the contact information, number of beds and baths, SQFT and price.
Top 10 Cities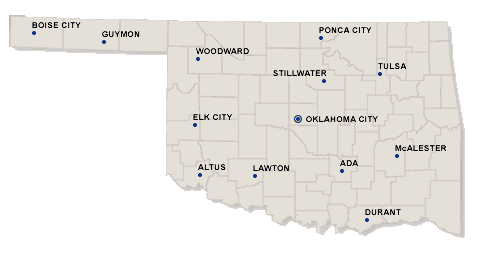 Latest Foreclosures in Oklahoma
Oklahoma top locations
Search through the best foreclosures listings in Oklahoma that we offer!
Choose a city from the list below and find your dream home today!
Or search more locations in Oklahoma
Oklahoma Latest Resources
Oklahoma got its nickname, the Sooner State, because, in 1889, Indian Territory opened up to settlers. The Land Run ...
Tulsa is the second largest city in all of Oklahoma. It is also the 47th largest in America having ...
---
Oklahoma Foreclosures for Sale
The current housing market is currently displaying an increase in market prices all across Oklahoma; this includes Oklahoma home foreclosures. According to recent statistics, prices are averaging at just about $149,000. Despite this increase, household prices and Oklahoma foreclosures can still be found to have modest price levels and vary enough to maintain a competitive position in the Oklahoma housing market.
Oklahoma is situated in the southern region of North America, sitting just above Texas and between the bordering states of Kansas, Missouri and Arkansas. Oklahoma also has a strong cultural heritage connected with Native Americans. In fact, Oklahoma contains about fifty Native American tribes within its borders along with wide demographics to match. The land is comprised of several contrasting regions with the most prominent ones being the Ouachita Mountains situated in the southern region; the Rev River Valleys located in the south, which feature mild sloping meadows and forested areas; and the Ozark Plateau located in the northern region, featuring interweaving rivers and wide-scoping flatlands. The state's climate is known to fluctuate dramatically between seasons, often with harsh winters followed by scorching summers of up to 90 degrees F and above.
Oklahoma's capital city shares its namesake with the state and also the largest city in the state, with a population of 579,999 people. Other major cities include Tulsa, Lawton,Yukon, Stillwater and Norman. Some of the major counties include Canadian County, Cleveland County, Oklahoma County and Comanche County, with Oklahoma County being the most densely populated.
The state's economy flourishes in its agricultural industry with its strongest being on its beef and cattle, which Oklahoma is widely known for. The production of crops also contributes a large sum of revenue for the industry, including crops such as wheat, greenhouse plants, cotton, grains and oats. The most important products in the mining industry include natural gas and petroleum, which account for a large majority of the industry's profits. Oklahoma also has a thriving mining industry; they mine many minerals including sand, gravel, and crushed rock, just to name a few. The manufacturing industry's most important sectors include the production of machinery, as well as parts for household appliances such as refrigerators and microwaves. The two other main contributing sectors to the industry include the production of aviation parts and other associated transport equipment, along with computer peripheral parts and microchips.