New York
Foreclosure Listings
New York foreclosure listings of foreclosures for sale and nationwide. Our foreclosure data includes New York bank owned homes and REO properties. All our foreclosure listings are screened for accuracy by our team of professionals on a daily basis. All of our New York foreclosure homes for sale will also include the contact information, number of beds and baths, SQFT and price.
Top 10 Cities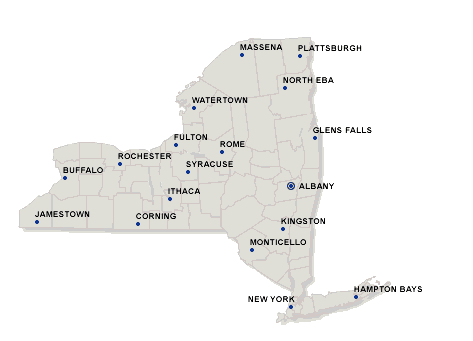 Latest Foreclosures in New York
New York top locations
Search through the best foreclosures listings in New York that we offer!
Choose a city from the list below and find your dream home today!
Or search more locations in New York
New York Latest Resources
If you want glitz, glamour and a raucous good time, visit New York City, New York. If you want ...
---
New York Foreclosures for Sale
New York is situated in the north-eastern region of North America, and bordered by Canada, Vermont, Massachusetts, New Jersey and Connecticut. The region encompasses a total area of over 54 thousand square miles, with 7 thousand square miles being covered by water. Mount Marcy is known as the highest point in the state.
New York's capital city shares its namesake with the state. Often referred to as the Big Apple, New York City is considered one of the most densely populated metropolitan areas in the world. The city is well known for its towering skyscrapers, with many of them being recognized as some of the tallest buildings in the world. New York is also widely renowned for its eclectic mix of architectural styles, displaying influence from many major art movements, such as Art Deco (Chrysler Building) and the Gothic Revival. Many of the city's landmarks bear marks of the characteristic styles from these two art movements. The housing market in New York City is showing a modest increase in prices compared to last year's, with the average list price sitting at $429,000. New York home foreclosures currently account for 3 percent of overall household sales in the city, giving New York foreclosures a notable presence on the market.
New York's manufacturing industry largely dominates in the production of pharmaceuticals, along with the state garnering a strong presence in the making of machinery and computer chips. Chemical products such as soap, fertilizer, photographic film and paint also contribute greatly towards the industry, along with communication and surveillance equipment. The state's agriculture industry garners high revenue from the production of dairy. New York is considered a leading state among the industry of dairy products. Other important crops grown in New York include: fruit, vegetables, greenhouse products, oats, wheat, soybeans and maple syrup. New York's mining industry puts great importance on mining stone, sand and gravel, along with other materials such as garnets, zinc, clay and natural gas. New York City is considered to be a leading region in the finance sector, with the most notable place being New York's Stock Exchange building. The city is also known as being home to the headquarters of many established big businesses, accounting firms, bank branches, advertising agencies and many entertainment complexes.