Vermont
Foreclosure Listings
Vermont foreclosure listings of foreclosures for sale and nationwide. Our foreclosure data includes Vermont bank owned homes and REO properties. All our foreclosure listings are screened for accuracy by our team of professionals on a daily basis. All of our Vermont foreclosure homes for sale will also include the contact information, number of beds and baths, SQFT and price.
Top 10 Cities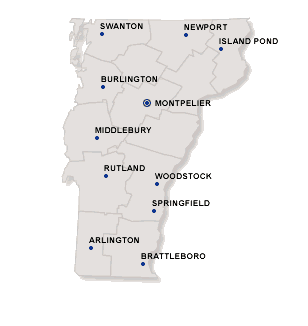 Latest Foreclosures in Vermont
Vermont top locations
Search through the best foreclosures listings in Vermont that we offer!
Choose a city from the list below and find your dream home today!
Or search more locations in Vermont
---
Vermont Foreclosures for Sale
The educational system in place for Vermont is extremely well organized. Scholars are definitely not a rarity in this snowy state. Vermont is very proud of the many academic programs they have available for students who wish to go further with their academic careers; having a child go to school in Vermont is something to be proud of. Teachers in this state are very supportive of their students and no child is left to struggle here. Highly skilled and personable teachers are willing to go the extra mile to make sure their students' educational experience is one that is fruitful.
Historical sites are also sprinkled throughout this state. No matter the county picked, there is a local, historical attraction in every town and city in the state. Locals are proud to be a piece of such well- rounded,historical communities. Vermont home foreclosures are not hard to obtain in this state and are great deals for those fascinated by American history. Through cross referencing with old historical documents, one can prove that their new home is located next to one of these great well-known sites which include: Chimney Point State Historic Site located in Addison, Hildene; The Lincoln Family Home located in Manchester; the President Chester A. Arthur Historic Site, located in Fairfield; and The Old Stone House Museum located in Brownington.
Vermont is a great place to be if your are into a wide range of sports. Some activities that one can try out here are fly fishing, ranching, boarding, riding lessons, biking. This is just to name a few; there are more. Snow mobile clubs and snow boarding are also very popular here; Vermont is, actually, known for its large, snowy mountains. For those who love to dance, there are places to take lessons as well. Vermont foreclosures are a great way to go when a family has many different interests and dreams.
The economy of Vermont is still pretty intact, even though there is a recession. Due to a stable economy, finding employment here would be not be a problem for anyone wishing to relocate to this great state. Even though Vermont is one of the smallest states, it is the state with the highest profit margins.