Oregon
Foreclosure Listings
Oregon foreclosure listings of foreclosures for sale and nationwide. Our foreclosure data includes Oregon bank owned homes and REO properties. All our foreclosure listings are screened for accuracy by our team of professionals on a daily basis. All of our Oregon foreclosure homes for sale will also include the contact information, number of beds and baths, SQFT and price.
Top 10 Cities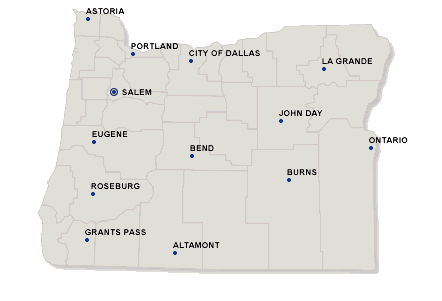 Latest Foreclosures in Oregon
Oregon top locations
Search through the best foreclosures listings in Oregon that we offer!
Choose a city from the list below and find your dream home today!
Or search more locations in Oregon
Oregon Latest Resources
It was in 1845 that Portland received its name. Before this, the area was simply known as "the clearing." ...
---
Oregon Foreclosures for Sale
Oregon is found in the upper western region of North America, with a population of over 3.8 million and a landmass of approximately 98,381 square miles. The state's capital city is Salem, with Portland being Oregon's largest city; other important cities include Hillsboro, Eugene, Gresham and Beaverton. Portland's demographic comprises of largely married couples owning homes, with a percentile rate of over 46 percent. The median annual income for households averages at just over 40,000 in Portland, with nearly a quarter of homes having children; making the city a prospective area for new families looking for Oregon home foreclosures.
Oregon's geographic state is split up into several regions, many of which contain a large area of forest; Oregon is responsible for a large portion in the production of lumber throughout North America. The Coast Range runs across the border of the Pacific Ocean, with an array of mountains and twin peaks permeating across the landscape. The Columbia Plateau contains large portions of wheat farms around the area, which are situated in between the rugged mountain ranges, with some reaching a height of over 5,000 ft above sea level. The Willamette Lowlands are located in the east coast region of the state, which sits next to the Willamette River; this river interconnects with the Columbia River as well.
Oregon's economical growth is largely attributed to its manufacturing industry, with the processing of lumber being a dominant force throughout North America. Other important sectors include the production of electronic equipment, such as external peripheral equipment, calculators, computer chips and parts for printers. The state's agriculture industry garners its profits from the production of greenhouse plants, along with crops such as hay, wheat, onions and ryegrass. The mining industry's most important materials are sand and gravel, which are used for the maintenance of roads; this generates the majority of the industry's income.
The current housing market provides optimistic statistics for those looking towards Oregon foreclosures. Portland's listing prices average at around $239,000, which is a percentile drop of 8 percent compared to last year. Foreclosure re-sales are experiencing an increase, with nearly 24 percent of overall household sales being attributed to foreclosures.