Nebraska
Foreclosure Listings
Nebraska foreclosure listings of foreclosures for sale and nationwide. Our foreclosure data includes Nebraska bank owned homes and REO properties. All our foreclosure listings are screened for accuracy by our team of professionals on a daily basis. All of our Nebraska foreclosure homes for sale will also include the contact information, number of beds and baths, SQFT and price.
Top 10 Cities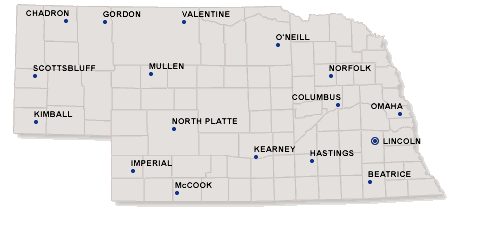 Latest Foreclosures in Nebraska
Nebraska top locations
Search through the best foreclosures listings in Nebraska that we offer!
Choose a city from the list below and find your dream home today!
Or search more locations in Nebraska
Nebraska Latest Resources
Omaha is the largest city in Nebraska and in 2009 had an estimated population of 450,000. It is set on ...
---
Nebraska Foreclosures for Sale
The beautiful state of Nebraska is located in the upper region of North America and has a population of just 1,826,241 people. Covering a landmass of over 77 thousand square miles, Nebraska is the 16th largest state in the United States. The state's major cities include: Lincoln, Grand Island, Fremont, Kearney, North Platte, Bellevue and Nebraska's capital city Omaha, which is the state's most populated city. Omaha's demographics consist of predominantly married couples, which account for just over half of the city's relationship statuses. The median income for most households consists of just above $40,000, with the number of homes with children ranking at 27.4 percent, just over a quarter of total households. The housing market is currently strong with prospective Nebraska home foreclosures in abundance. The current median listing price sits at $135,000, with the total amount of Nebraska foreclosures accounting for just 2.5 percent of all real estate sales.
The state's economy thrives on its livestock production; Nebraska is known far and wide for its livestock industry. The agricultural industry's revenue is largely generated due to its livestock, although the exporting of chicken, eggs and dairy products also contributes to it. Besides agriculture, Nebraska also dabbles in food processing; things like canned goods, meat products, bakery products and dairy items churn out of Nebraska's food processing plants. Machinery is regularly produced in Nebraska, which includes items such as medical equipment, farm equipment and telecommunications equipment. The mining industry generates strong profits from the mining of petroleum, gravel, clay and sand. These resources provide an array of materials for many other sectors of the economy, with the construction industry being the most predominant of all.
The state's geography is split up into many regions and is composed a wide array of flatland areas interchanged with sweeping mountain ranges. The Dissected Till Plains runs across the eastern region of Nebraska, which is filled with many rolling hills and several fields that produce many of the state's most important crops, such as corn and soybeans. In fact, the Great Plains of Nebraska is located on the western side of the state, while a large region of sand dunes is located in the center of Nebraska. This area encompasses nearly 20,000 square miles and is considered one of the largest in North America.